Exercise Your Options
The Coquille Indian Tribe's Community Health Center invites you to support your good health at the Kilkich Fitness Room. The Fitness Room provides a convenient location and quality exercise equipment for Tribal members, housing residents, clinic patients and Tribal employees to pursue your personal fitness goals. All without paying a membership fee!
At the fitness room, you can rev up your metabolism on a cardio machine, focus on strength training with free weights, or roll out a yoga mat. A flat-screen TV offers fitness classes and exercise routines, including aerobics, cross training, stationary biking and yoga.  There are videos to guide beginning, intermediate and advanced users.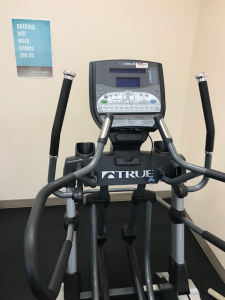 Located in Unit A of the Coquille Housing Authority warehouse at Kilkich, the room offers:
24-hour, seven-day access
Secure entry
Upright bike
Recumbent bike
Spin bike
Reclining stepper
Treadmills
Free weights and bands
Elliptical trainer
Yoga mats and blocks
Flat-screen smart TV
Wi-fi
Who can use the fitness room?
You can use the Kilkich Fitness Room if you're 13 and older and you're:
A Coquille Tribal member or spouse
A Tribal employee
A Kilkich resident
Or a Community Health Center patient
Parental supervision is required for any user younger than 18. Children 12 and under are not allowed in the Fitness Room.
Please remember to wear appropriate clothing and footwear. If you're new to fitness or have not exercised in a while, please talk to your health-care provider to be sure you are physically able to use the equipment provided.
Getting started
Here's how to begin using the Fitness Room:
Fill out a user agreement. (User agreements must be on file for all visitors, including children and guests.)  Download the agreement 
Mail the completed agreement to: CIT Community Health Center, Attn: Anna Chavez, P.O. Box 3190 Coos Bay, OR 97420. Or scan and email the completed agreement to annachavez@coquilletribe.org.
Pick up your access card at the Community Health Center during regular business hours.
Contact
Anna Chavez
(541) 888-9494, ext. 2212 or ext. 2211