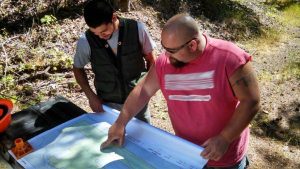 Working for
Sek-wet-se Corp.
Key facts about Sek-wet-se:
Sek-wet-se Corp. is a legal entity created to manage the Sek-wet-se Tribal Forest in Curry County.
Sek-wet-se Corp. is an Equal Employment Opportunity Employer, including veterans and individuals with disabilities.
Preference is given to individuals who qualify as low-income pursuant to Treasury Regulations 1.45D-1(d)(9)(i). A qualified applicant must provide proof of low-income status, in the form of income tax returns and supplemental questionnaire of the applicant and each family resident.
Indian preference will be observed in the hiring process. To receive Indian preference, certification of Native American heritage needs to be attached to the job application
Sek-wet-se Corp. currently provides these benefits:
Life insurance
Accidental death and dismemberment insurance
Employee Assistance Program
Job Listings  —  Click here to see job listings for Sek-wet-se, Tribal government programs, and Nasomah Health Group.