The Mill Casino Reopens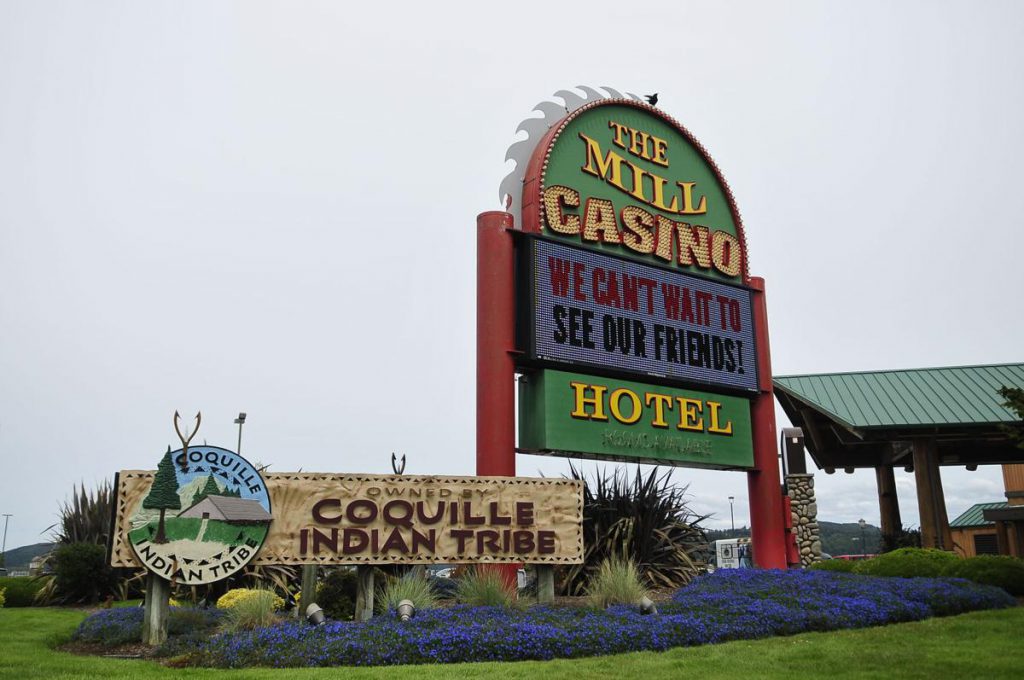 KVAL television report (May 14, 2020)
The World newspaper report (May 14, 2020)
KGW television report (May 15, 2020)
---
News Release
May 14, 2020
NORTH BEND – Just in time for the 25th anniversary of its original opening, The Mill Casino-Hotel & RV Park once again will welcome the public to enjoy its hospitality and entertainment.
The Mill Casino's limited reopening will commence Monday, May 18. Hours will be 9 a.m. to 10 p.m. Sunday through Thursday, and 9 a.m. to midnight Friday and Saturday.
"Seeing our friends again after a two-month closure will be an exciting moment," said Brenda Meade, chairman of the Coquille Indian Tribe. "The Mill is a hub of community life on the South Coast, and we're delighted to resume that role."
The Mill closed in late March, when the COVID-19 pandemic forced the shutdown of public places across the country. With Oregon counties and local businesses making plans to reopen, Meade said the Coquille Tribal Council deliberated carefully about resuming operations. As a sovereign Indian nation, the Coquille Tribe self-governs all operations at its businesses.
"Closing The Mill Casino was heartbreaking for the tribe and our employees, and we've been eager to get back to work," Meade said. "We want everyone to know we remain committed to the health and safety of our guests, our employees and our community.
"Things may look a little bit different for a while, but we are all doing everything we can to make The Mill as friendly, comfortable and fun and as it always has been."
The Mill Casino originally opened on May 19, 1995, in a converted wood-products plant on the shore of Coos Bay. It has grown into the Coos Bay area's premier entertainment, lodging and dining venue, as well as Coos County's second-largest employer.
The Mill Casino = Hotel & RV Park's contributions to the community's economy include not only its payroll, but also purchases of goods and services, millions of dollars in grants to community organizations, and taxes and fees paid to local government.  
"Like everyone else who closed during the pandemic, we have to rebuild our business," Meade said. "It won't happen all at once, but we're thrilled to be starting."
See the "Safe Play Plan" summary