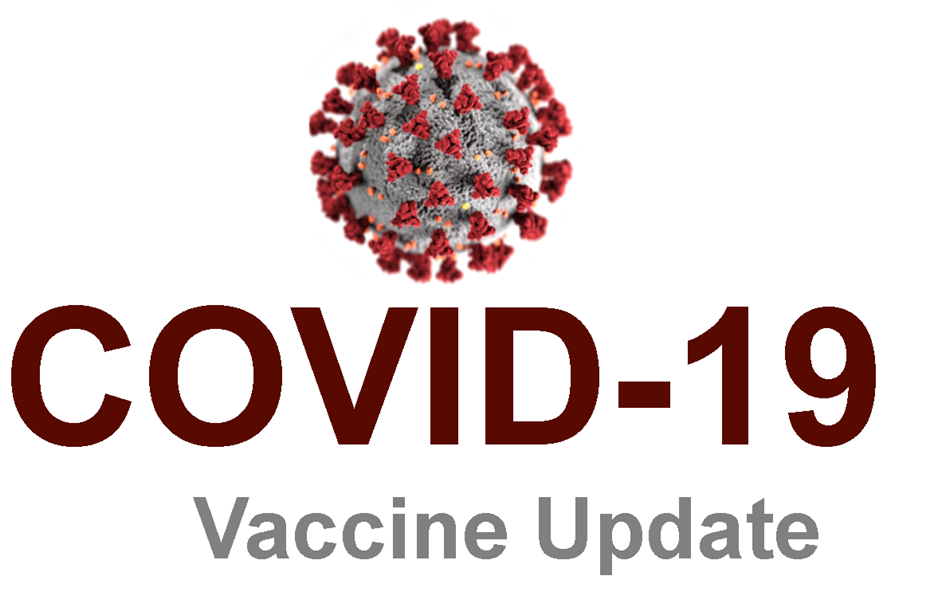 Updated May 4, 2021
---
Vaccinations at the Plankhouse
Friday, May 14 from 9 am – 11 am
 The Coquille Indian Tribe will be offering the Moderna vaccine to a limited number of people who need their first dose. The time frame will allow for 50 people on a first come, first serve basis at the Plankhouse at Kilkich. Please note this is for Tribal households, Tribal Clinic patients, and employees of the Tribe.
There is no distribution to the general public planned at this time.
If you are able to complete and print the consent form below, please bring with you to the Plankhouse.  There will also be copies onsite available. 
Moderna Consent and Fact Sheet
---
Booster Shot Clinics on Schedule
Please refer to your vaccination cards for appointment time.
Eugene
Wednesday, May 5
Ko-Kwel Wellness Center-Eugene
2401 River Road, Eugene
Medford
Thursday, May 6
Hilton Garden Inn
1000 Welcome Way, Medford
North Bend
Friday, May 7
The Mill Casino Hotel-Salmon Room
3201 Tremont Ave, North Bend
---
Tribe Resumes J & J Vaccine on Friday, April 30
The Johnson & Johnson vaccine has been re-approved for distribution by the CDC and FDA. The Coquille Indian Tribe has a limited supply that will be available Friday, April 30 from 8 a.m. to noon The Mill Casino Hotel.
All appointments for this event have been filled.
---
You still got a shot…
The Coquille Indian Tribe is continuing to provide COVID-19 vaccinations, however, the clinics in the near future will be much smaller. For the past several months, the tribe has been coordinating large vaccination events at The Mill Casino Hotel, Eugene, Roseburg, Medford and Portland allowing staff to vaccinate many people at once. For now, the tribe will transition to smaller vaccine events coordinated on site at the tribal clinic and surrounding Kilkich locations. Upcoming dates in May-August will serve 10-20 people at a time.  If the demand for COVID-19 vaccine increases the clinics will be adjusted to accommodate more patients.
Those who still need to be vaccinated can provide their contact information by email to: covid19@coquilletribe.org.
In order to receive the Moderna vaccine through the Tribe, you must be age 18 or older and meet at least one of the criteria below:
Coquille Tribal members, spouses, and their households
Coquille Tribal government staff and their households
Coquille Tribe's business and service entities staff and their households
Patients of the Coquille Tribe's Community Health Center
Enrolled tribal members of federally recognized tribes and their households, if they: a) Live inside the five-county service areas of Coos, Curry, Lane, Douglas, and Jackson counties and; b) Register as patients of our health centers in Coos Bay or Eugene
There is no distribution to the general public planned at this time.
---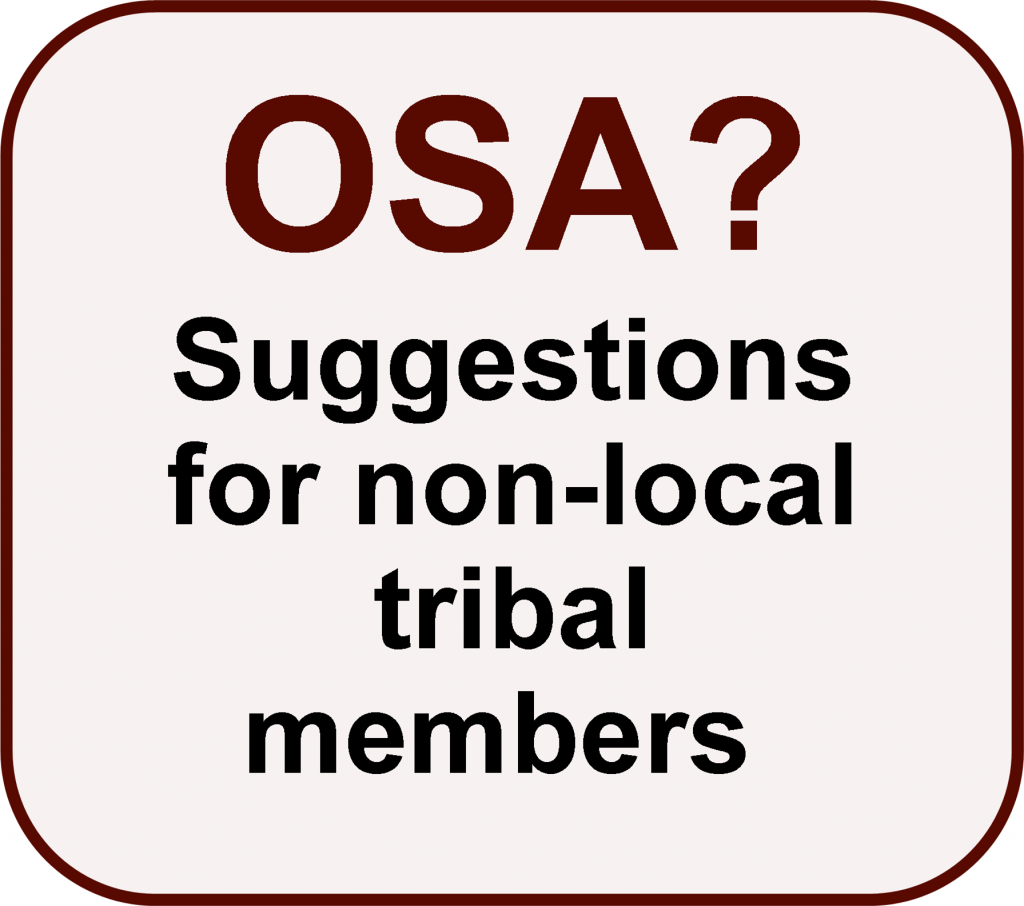 ---
Check your vaccine knowledge

Additional vaccine information
Coquille Tribe
Oregon Health Authority
Northwest Portland Area Indian Health Board
Centers for Disease Control
If you have a specific question about the vaccine and cannot find the answer in the FAQ's or other information, you can email your question to covid19@coquilletribe.org or contact Health and Human Services Director Kelle Little at (541) 297-0341.
See previous questions from members
---
Phase II vaccination program 
Phase II of the Coquille Tribe's vaccination program has been fully activated.  Distribution of the COVID-19 vaccine has been expanded to include all seven groups listed below.
Meanwhile, outreach to Elders and spouses with underlying health conditions in the tribe's five-county service area will continue as a priority under Phase I.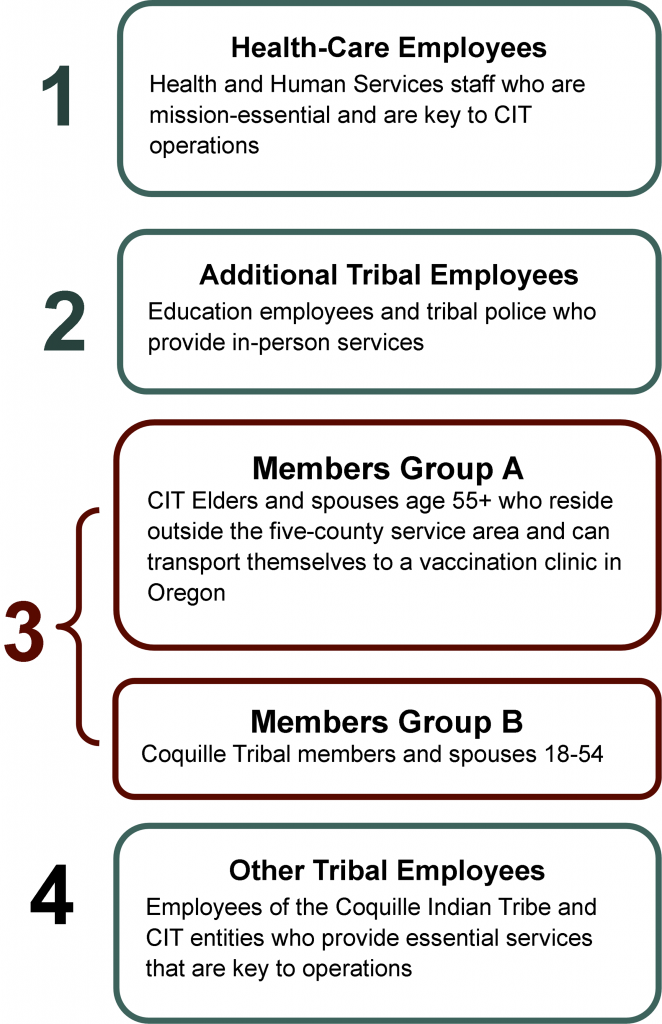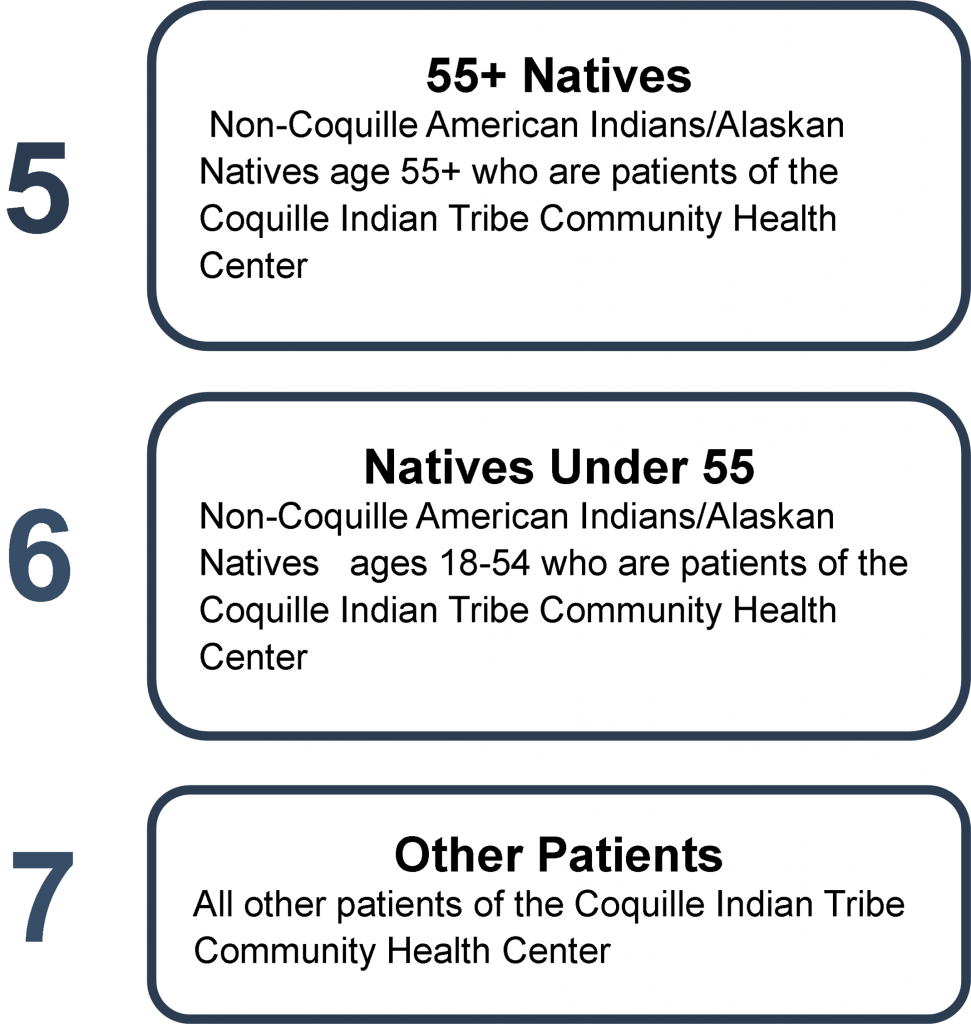 Please visit this website and Facebook  for more information as it becomes available. Tribal members and CHC patients can ask specific questions by emailing covid19@coquilletribe.org.
---
---