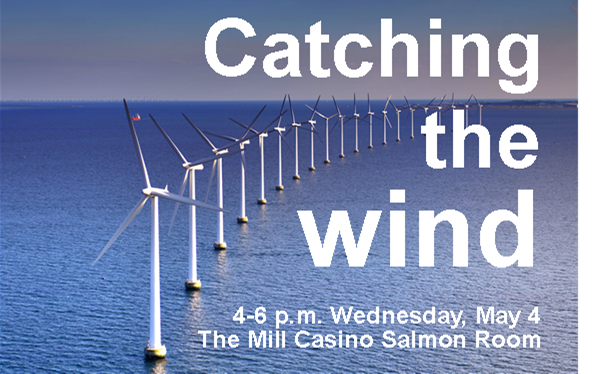 Local leaders plan offshore wind forum

April 26, 2022
NORTH BEND — As state and federal officials make plans for offshore wind energy, local leaders in Coos County are inviting stakeholders and local residents to share opinions, concerns and questions.
Former state Sen. Arnie Roblan will lead an informal roundtable discussion from 4-6 p.m. Wednesday, May 4, in the Salmon Room at The Mill Casino-Hotel & RV Park. Everyone is welcome.
"We're hoping to bring people together to exchange information and see how the community feels about this," said Coos County Commissioner Melissa Cribbins, one of the event organizers. "We want to make sure everyone's voice is heard."
The federal Bureau of Ocean Energy Management and the Oregon Department of Land Conservation and Development are leading a data gathering and public engagement process, aiming to complete offshore wind planning for the Oregon Coast. Coos Bay, Bandon and Brookings have been identified as "call areas" for consideration as potential wind energy sites.
The decision-making process includes consideration of diverse factors such as fish and shellfish habitat, whales, migratory birds, sea turtles, marine mammals, vessel traffic, fishing and existing underwater cables.
The community roundtable is not an official part of the BOEM/DLCD process. Its goal is to promote local discussion and understanding of the process and the issues.
The event is sponsored by Coos County; the Coquille Indian Tribe and the Confederated Tribes of Coos, Lower Umpqua and Siuslaw Indians; the cities of Coos Bay, North Bend and Bandon; the Port of Bandon and the Oregon International Port of Coos Bay; and state Reps. David Brock Smith and Boomer Wright.
For more information, contact Commissioner Cribbins at 541-396-7535.